WE HAVE OVER 700 GROUT PUMPS IN THE FIELD, WITH MORE LEAVING EVERYDAY!!!!!!!
PUMP TYPE: Dual acting Plunger Pump, weight 265 lbs., (stand mounted 60" x 39"x18"). Hammer unions allows you to disassemble entire pump in less than 3 minutes.
HYDRAULICS: 2 1/2" Bore Heat-Treated Hydraulic Cylinder, 9" stroke, hydraulic switching valve (no battery or electricity needed).
FUILD END: 5" Replaceable Super Liners and Single Acting Pistons, Self Priming, 2" Suction and 1¼" Discharge or optional 2" Discharge. Easily pumps grout, water, mud, cement, or coke breeze. Will produce 48 GPM with hydraulics of 10 GPM. Fluid end has been tested at 800 PSI.
PRICE: $4,400.00 w/gauge package
GUARANTEE:    Unconditional guarantee - if you are not completely satisfied with this pump, return it within 30 days for a full refund.
AMCI Hydraulic Grout Pump
GALLONS PER MINUTE OF HYDRAULIC FLUID
TO POWER PUMP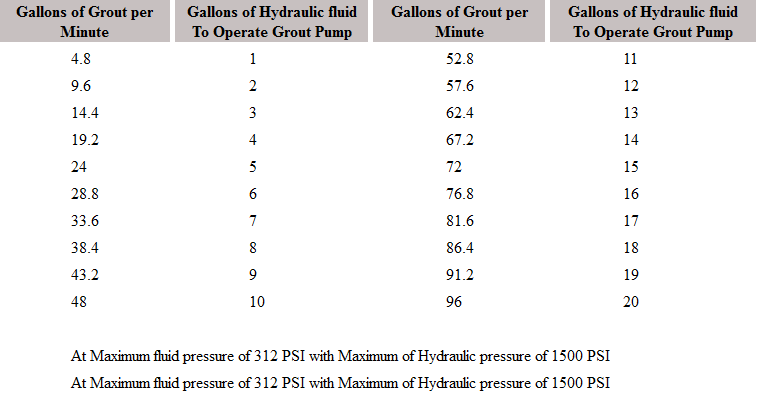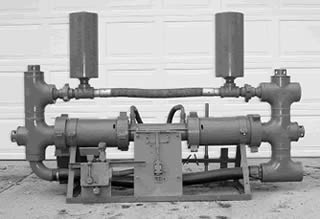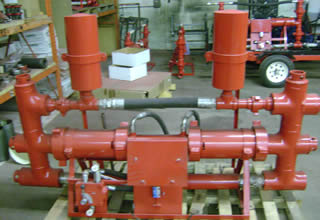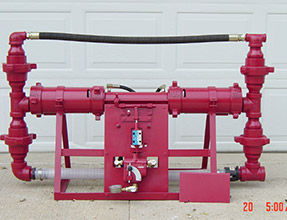 7½ x 10 Hydraulic Grout pump w /7½" Liner & Piston, w/ FC standard valve & seat Net Price $10,100.00 FOB Pocahontas, Iowa Delivery Stock Approximate dimensions 84" Long x 36" High 62" High w/surge chambers x 31" Wide (base width) Approximate weight 1,000#
Our hydraulic grout pump has an unconditional guarantee. If you are not completely satisfied with the pump return it in 30 days and we will give you a full refund.
ALL PUMP PURCHASES REQUIRE 20% DOWN PAYMENT, PAYMENT IN FULL PRIOR TO SHIPPING
7 ½ GROUT PUMP CHART